When Do You Send Your Direct Mail Out?
Direct mail remains leagues ahead of email marketing when it comes to opening and interaction rates, as evidenced by the Direct Marketing Association's (DMA's) Open/Interaction Statistics Report.
But, like all forms of marketing, you need to ensure you're delivering your message at the optimal time. Unlike email, which is relatively cheap to send out, direct mail can be costly when print, fulfilment and design are factored in. So, it's crucial you look at whether certain days can give you a better return.
What is the Best Day to Send Direct Mail?
In the same way that email and social media have peak audience times, direct mail has peak door drop days too. Most mail is delivered on a Monday, due to weekend schedules, but this doesn't mean that Monday is the best day for customers to receive mail, in fact, it's thought to be the worst.
This is because of two main reasons: first, people aren't into the full flow of the working week, and when they return home, they're not keen on sifting through their mail. Second, the majority of mail is received on a Monday, meaning your mail could likely end up lost within everyone else's.
Fridays and Saturdays aren't too great either, because people are now focusing on the weekend and by the time Monday comes back around, your mail will have become lost in the flurry of others received on Saturday and Monday morning. Avoid Sunday entirely, no one likes receiving mail on Sunday as they're well into weekend mode and it's likely your mail will end up straight in the bin.
Tuesday to Thursday are the Best Days to Receive Direct Mail
Optimum receiving days are between Tuesday and Thursday, because recipients are into the flow of the working week and are thought to be more engaged. The DMA constructed a graph detailing the what mail is received and when: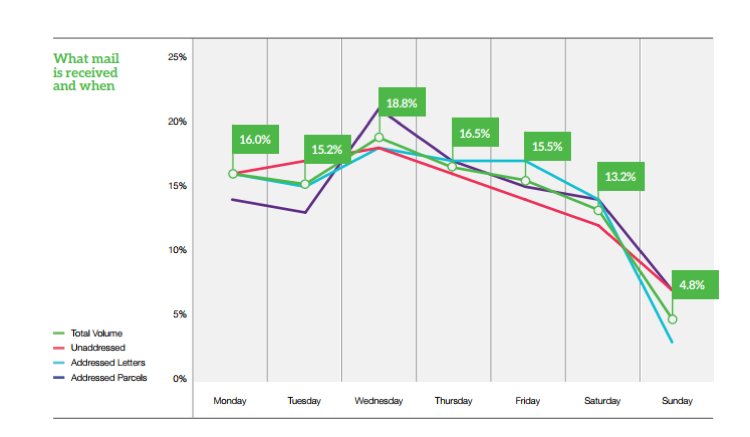 Graph courtesy of The Direct Marketing Association (original source).
The total volume for all mail peaks on Wednesday, with unaddressed mail falling after Wednesday. Additionally, the USPS discovered that more people are opening their mail at first glance, as opposed to waiting for the weekend. So, ensuring your audience receives and opens your mail on the right day is more important than ever.
Understanding Send Dates and Receive Dates
However, direct mailers will need to take into account the difference between the 'send date' and the 'receive date'. Getting this right is essential if you're looking for your recipients to receive their mail on a specific date, especially if you're offering a limited time service, or anything promotional with an expiry date.
Personalising Your Mail Gets You Further
While it's important to target the best delivery days, it's equally important (if not more important) to ensure your direct mail campaign is unique, eye-catching and above all else, actionable. Design is key here, so make sure you consider everything from weight and shape to colour and texture. If you have the budget, and your service or product can justify it, try incorporating dimensional mail into your campaign. It's thought that dimensional has an 8.5% higher response rate than other direct mailing mediums.
If you're not keen on using dimensional mail, stick to compelling headlines, unique designs and personalised content.
It's Not All About the Day
The good news is that according to the Royal Mail, people keep door drops for 38 days, so there's a high chance your mail will be seen, even if it's not opened on the desired day. The 2018 stats tell a similar story, in that even after one month, 27% of mail is still 'live' within the household.
While there are thought to be better times to share social media posts, email potential customers and send/receive direct mail, it's not the be all and end all of a successful campaign. Above all else, your direct mail campaign has to be actionable and it has to stand out from the crowd and that's what we specialise in at The Mailing People.
If you're considering a direct mail campaign or you'd like to know more about the services we offer, get in touch with our mailing team today and we'll guide you through the entire process.
Written by Kristian Harrison, General Manager at The Mailing People. Kristian is an industry professional with over 20 years experience in Direct Mail and Fulfilment.