3 doormat triumphs! Direct mail that stands out and gets action
Frequent visitors to The Mailing People blog may have read our regular round-up of direct mail that needs a few tweaks and brush-ups to achieve the return on investment that businesses are looking for.
Yes, we might sound a bit geeky, but we do love to chat about the mailshots that have arrived on our doormats. As an innovative direct mail company, it's actually part of building our knowledge and ramping up our creativity. Sometimes we're inspired by what we get. Other times, seeing direct mail mistakes helps us to guide our clients away from falling into the same traps. As with all direct mail campaigns there are good practises and bad practises and we thought we'd show you some examples to help you on your way.
This week, we're going to look at three doormat triumphs. All three were simple and inexpensive to create, but they had the desired effect – impact that leads to action. Let's get inspired!
Welcome back!
This one couldn't have been simpler. A postcard style direct mailing from fashion retailer H&M, who have both high street and online businesses. The postcard was very plain – white background and black text, but this made the red company logo really stand out.
The simple message stood out, too:
ONLINE OFFER
WELCOME BACK!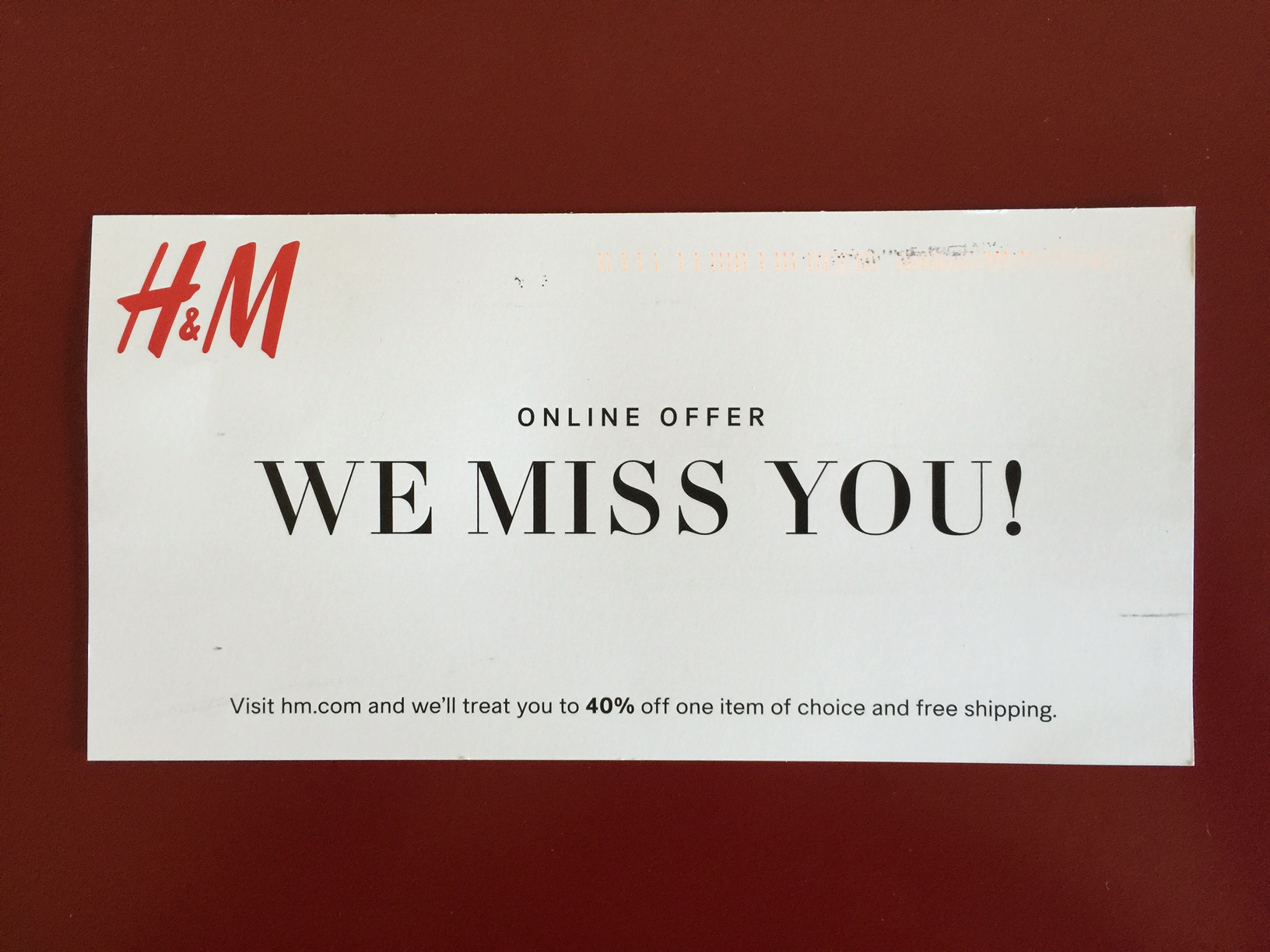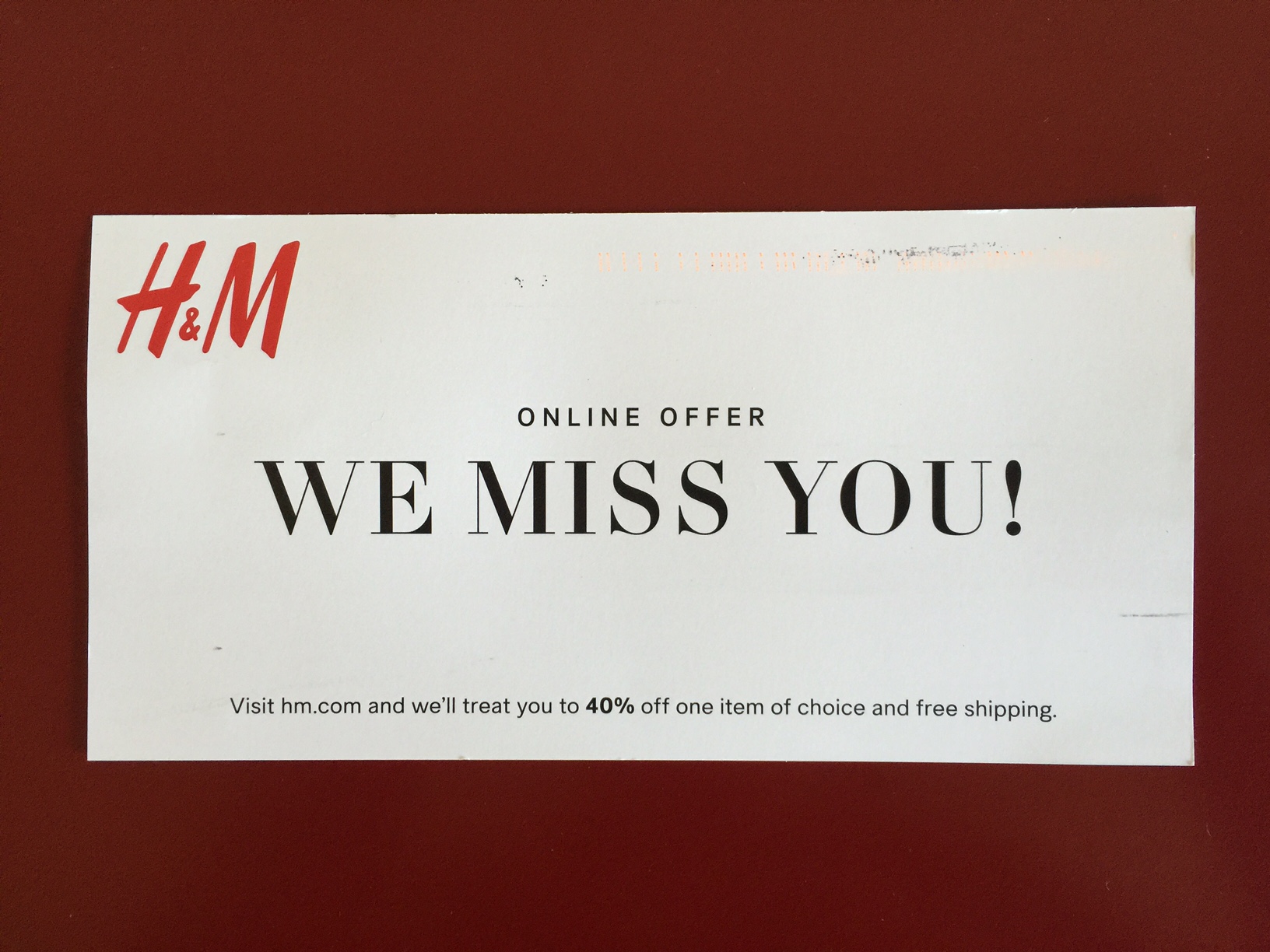 Visit hm.com and we'll treat you to 10% off your next purchase and free standard delivery.
On the other side was another headline message 'LONG TIME NO SEE' together with the discount code, the date to use it by and three or four short sentences reminding me of the benefits and attractions of using H&M's online service – the option to return wrong size items in store as well as by mail, for instance.
It was all I needed to get online, look at a few Christmas party dresses and place an order. So what? I could easily return it if I didn't like it and I only had a short while to make the most of that discount.
What was it about this direct mail that made me spring into action?
Good data: H&M knew that I'd bought online before but hadn't done so in a while. That meant I might just need some sort of nudge. And all my details – name and address - were correct.
Good timing: They sent out the mailing at the right time of year. It's getting cooler and it's time for a new jumper. Some of us are toying with the idea of something new for Christmas parties and get-togethers and just need a little encouragement.
Clear and simple: The offer was straightforward. I'd read it and understood it in the time it took me to pick it up off the doormat.
What we learn from this one is that while creativity can really make a difference to direct mail success, sometimes simple and direct is what's needed.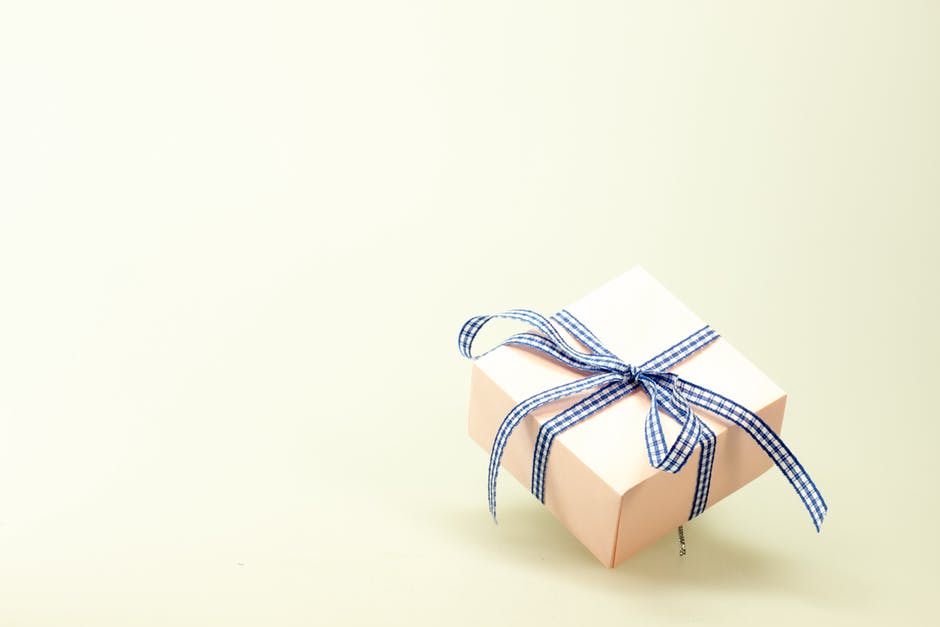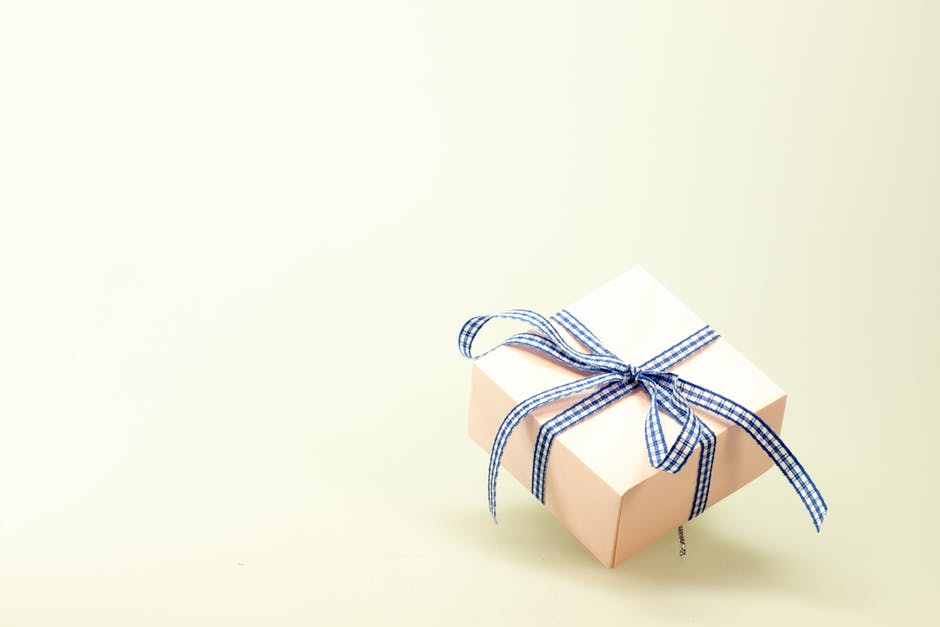 Origami action
While creating direct mail that can be folded, origami-style, might take some creative thinking from your designer, it can actually be a very cost effective direct mailing format.
I received a simple A4 self-mailer from a local charity, encouraging people to hold tea parties as a spring fundraising initiative. On one side of the mailer was some clear and compelling information on what the charity achieves, along with a couple of east and traditional cake recipes.
So, what about the origami? Well, with a few simple folds, the mailer was transformed into a collecting box for donations at your tea party.
Guess what? I had a few friends round, they drank tea, ate cake and put money in my origami box.
What was it about the direct mailing that made me do it?
The information about the charity contained in the direct mailing made me want to support their work. The images reinforced the idea of helping people in my own community.
There was clear information on how to get the funds raised to the charity.
Once I'd made the origami collecting box and it was sitting on the kitchen table, it was calling out to me to text a few friends and get them over for a tea party!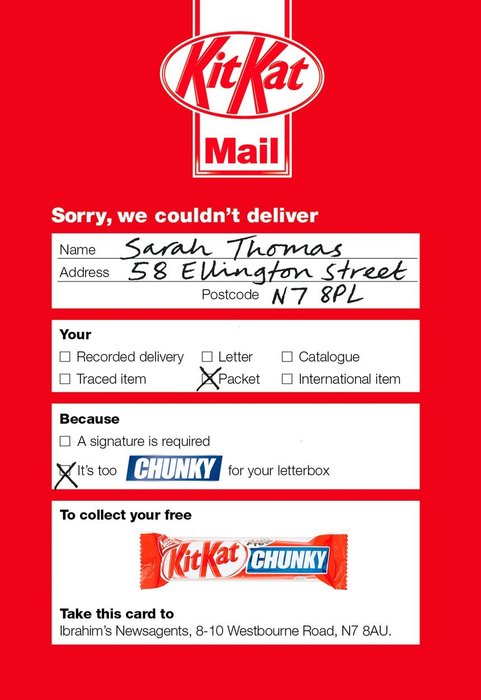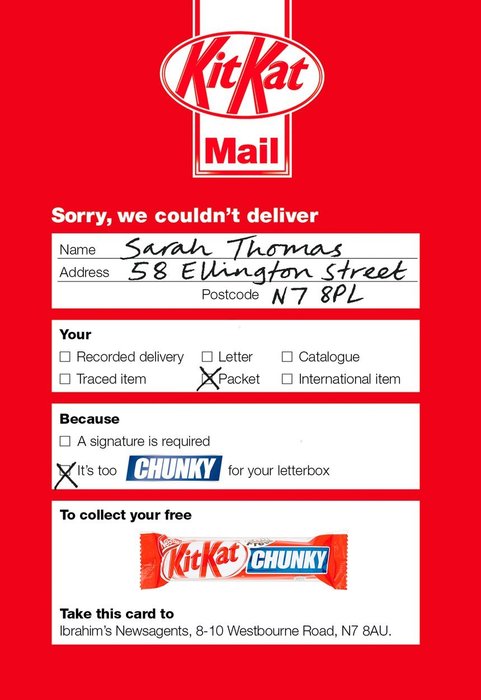 Chunky chocolate
I'm sorry to say I didn't actually receive this direct mail. It featured a free bar of chocolate.
It's featured in a few top tens of direct mailing, but what makes it stand out is that it's an extremely simple and cost-effective piece of direct mail.
This one is all about creativity and data.
Created to promote chunky-style KitKat bars, it's a simple postcard, designed to look exactly like the cards used by the Royal Mail, when they're unable to deliver a parcel because the recipient is out.
The mailing was personalised, using a handwriting style font, to look as if a postie had just filled out the Royal Mail card by hand. Underneath were all the usual messages about reasons for non-delivery – recorded delivery, packet etc. But there was one new category: 'It's too CHUNKY for your letterbox'. Turn the card over and you find that as it couldn't be delivered, you could get your chunky KitKat gratis by taking the card (which was also a voucher) to a shop.
Humorous, clever and with a clear enticement – this campaign really boosted sales.
It's good to know that effective direct mail doesn't have to be complicated. The main thing is to be clear about your message, speak directly to your customer and use creativity to entice action.